Shopping Cart
Your Cart is Empty
There was an error with PayPal
Click here to try again
Thank you for your business!
You should be receiving an order confirmation from Paypal shortly.
Exit Shopping Cart
Vignettes of our life abroad
| | |
| --- | --- |
| Posted on September 14, 2013 at 4:15 PM | |
8/24/13
Park Guell should be named Parc Grueling, to get to...
a trek to the train... then up a huge hill from the train to the parc. that said... the morning was quite nice. We found a total of 5 playing grounds, one on the way and 4 there. that kept the kids interested during the walk! there was lots of live music and I was surprised to hear Cat Stevens as we started our journey. Toward the top, we heard the Mañaneras, a lively ska-reggae-hip-hoppy type of music and they were super fun.
8/25/13
In the AM we went to Casa Batlló. It is beautiful and unique and EXPENSIVE bring your wallets, its 20Eu. Although ok with kids, would be a better trip without since they give you audio to listen to and it is too slow for kids. At the top they have a cool replica with a show on it, unfortunately the show has a dragon on it and Emmett got scared, so we had to sprint through the second-half:)
Outside Casa Batllo (the Dragon House)...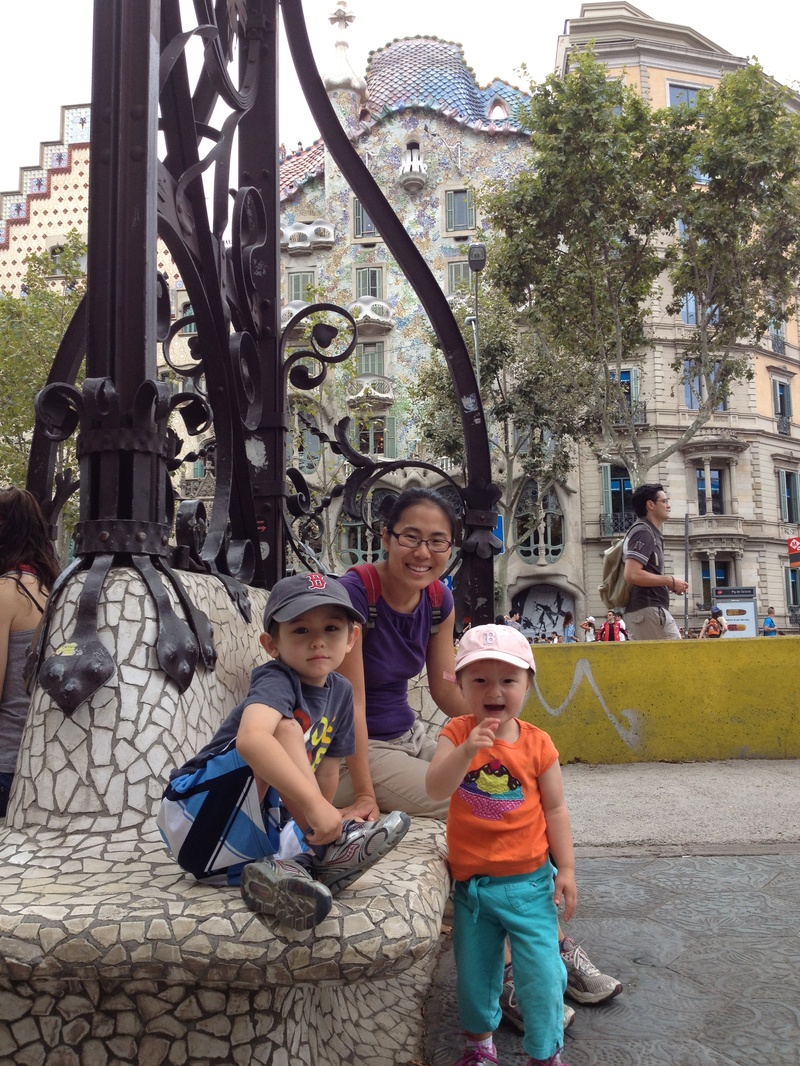 After that we went to a restaurant Tapas Tapas. It was nice to sit outside and enjoy the lovely weather. Emmett loved the tuna sushi that came with the chips and guacamole and Abby liked the fried egg (yay she can eat it!)  We ordered a bunch of tapas so it was fun to try a bunch of stuff. Emmett liked the grilled tuna too!
Then we got back to the house for a nap and Emmett and I went for a discovery trip. We found a playground near la Boqueria (a large market off of Las Ramblas) and it was super fun. I noticed the sanitation/ clean up jobs seem much higher respected, instead of blue grey uniforms blending in, they are in the bright yellow green suits, driving cute cars, and out and about during the day. They work in pairs and you seem women and younger people on the clean-up.
Then we went on a search for a bathroom and Emmett held it for 15-20 minutes while we looked for a bathroom. We went exploring and found la Plaza Real (Royal Plaza) which was an amazing huge area with lots of outdoor eating and a huge fountain. Then we went on an adventure looking for another playground. We were having trouble finding it so we decided to rest and get a drink. What a great decision we saw a street show of a guy with hacky sack doing an amazing little skit with it. We got to see him again when we got ice cream, so we could give him money.
I have been impressed with the wait staff at the food places we've stopped. Every time I mention Emmett's allergies, whomever I am talking to knows what is in the product. It's very helpful and nice I don't have to wait for a manager or whatnot.
After eating the gelato, we took a turn to go down a quieter street and we found the gothic quarter playground we had been looking for! What a great find.
Jeff is becoming the master cook. Not only can he cook without an oven, he can cook using only 2 pans, 2 pots and 2 burners. That's my new reality tv show idea... City Chefs! Make a great meal with minimal prep, supplies and space!
8/27/2013
We played at the Arc de Triumf playground today 9well near it) in the rain! (and this is just after Jeff wouldn't let me buy a rain coat... argh)
Categories: None
/