Shopping Cart
Your Cart is Empty
There was an error with PayPal
Click here to try again
Thank you for your business!
You should be receiving an order confirmation from Paypal shortly.
Exit Shopping Cart
Vignettes of our life abroad
| | |
| --- | --- |
| Posted on September 14, 2013 at 4:20 PM | |
August 25 – September 1, 2013
Two weeks down and still adjusting. This week we went to about 15 different playgrounds, I am not even exaggerating. Of course none of them are within 2 blocks of our apartment. Abby is still a little socially awkward and either says a very loud "uh uh" (like a no) to any new kids on the playground, or she pushes other kids OR leans in like a dementor (Harry Potty reference) to kiss them. Hahaha Actually Emmett kissed a girl he met at a playground on Friday… on the lips! hahaha
At our favorite/closest playground...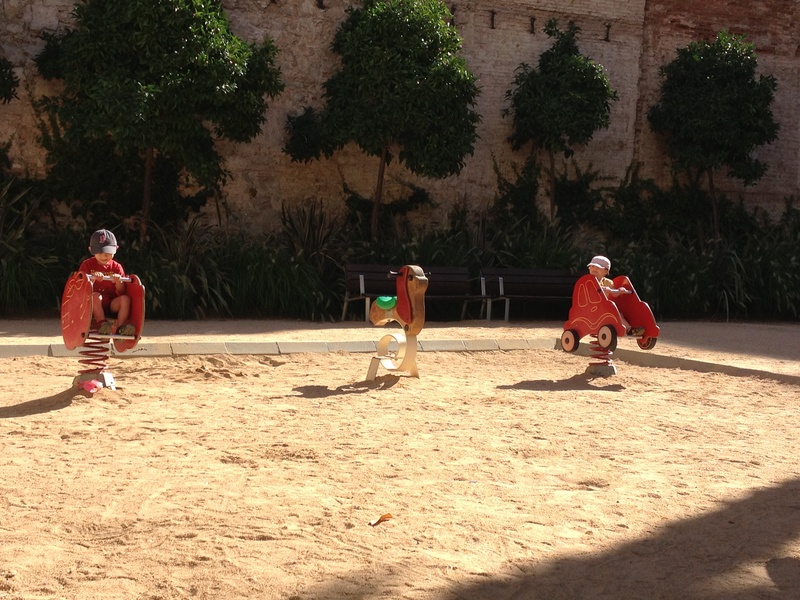 Earlier this week Abby, Emmett and I went to Sagrada Familia (a big, super-unique Gaudi church that is still under construction after over 80 years). We did not go in, but we saw it from the playground. It was a nice set up with a younger section and older kid section. Of course Emmett wanted to be in the older kid section and made friends with a lovely girl Ruth. She helped him navigate the older kids section and battle with some of the older kids 8-12 who were all around him.
We went to the zoo for our second trip earlier this week and saw the second half with the big cats and fun birds (see picture of Abby and the punk rock pigeon). Emmett really loved the screecher which is a bird in South America? That they use to protect herds instead of dogs since its aggressive and loud! We went to a super fun children's area with a playground and many farm animals. We brought Jeff with us Sunday and still saw parts we hadn't seen yet and finally got to play at the amazing big kid playground. Both kids had a blast and rode on the zip line! After three trips, we still haven't seen the sea lion show. We are huge fans of the zoo, except for the flies. Emmett is getting crazy fly bites that are super itchy. So bring bug spray or spend $8 on a bug bracelet. BTW Floss is 5 Euros. Holy Moly, I never even bought floss in the states, but 5 euros, seriously?
Friday was a big exciting day. We met the wife of one of Jeff's coworkers, she has two kids 4.5 and 3 and is expecting a third. The older boy and Emmett hit it off and were playing all morning together. He kept calling Emmett his "best friend." Note: In Spain they send their kids to preschool for full days at age 3, so at playgroups or playgrounds, it's rare to see kids over the age of three (except in the summer). So often Emmett is the oldest and I'm guessing his "new best friend" was super excited to have another older buddy too! Plus he is probably going to be in the same preschool as well. It also turns out that this mama was roommates with my old college roommate when she lived in Northhampton, what a small world!
Categories: None
/