Shopping Cart
Your Cart is Empty
There was an error with PayPal
Click here to try again
Thank you for your business!
You should be receiving an order confirmation from Paypal shortly.
Exit Shopping Cart
Vignettes of our life abroad
| | |
| --- | --- |
| Posted on October 6, 2013 at 4:50 PM | |
Home Sweet Home
We have finally moved into our permanent housing. It was a little hairy if our stuff was going to get through customs in time to move before our temporary housing ran out... but it did, phew! Our house is nice, maybe like 1500 sf or something, a gorgeous sea view (6th floor), a playground downstairs, close groceries, health care (although I haven't tackled that yet), 20 min walk to Emmett's school, lots of storage and under budget. However, before you get all drooley, it didn't have any appliances (refrigerator, washer and dryer) until Thursday, we don't yet have a remote to the garage (so our bikes are on our deck, and the prior tenant was apparently a smoker so it has third hand smoke. This is the new rage apparently... and it'd probably be in any apartment here (so many smokers in Europe in general). It's basically like injecting your children with cancer, slowly. (What isn't these days?) So, to remedy this, we have been cleaning like crazy and I guess washing with vinegar and water typically does the trick.
Anyway, remember how I just said "lots of storage"? Well normally that would be awesome, except, when you have third hand smoke to get rid of and all the book shelves and drawers to clean... so I have been furiously moving all our unpacked stuff all over the place and re-cleaning everything Jeff cleaned with Windex with vinegar... on the positive, some of the smell has been disappearing... but now... we are getting more bug bites.... so more research, vinegar can attract bugs... WTF... so NOW I'm RE-cleaning all the re-cleaned book shelves with Windex again.
Apparently Emmett and I have some type of skeeter allergy where we have excessive itching and swelling (JS, on the odd chance you are reading this,.. feel free to comment).... my hand is so swollen you can't see my knuckles... and there's this extra special mosquito the "Asian tiger mosquito" that is super aggressive and bites during the day, so now these super mosquitos are eating me and Emmett alive.... at least I saw one this morning and killed it... that felt therapeutic!!
Here is the view from our apartment: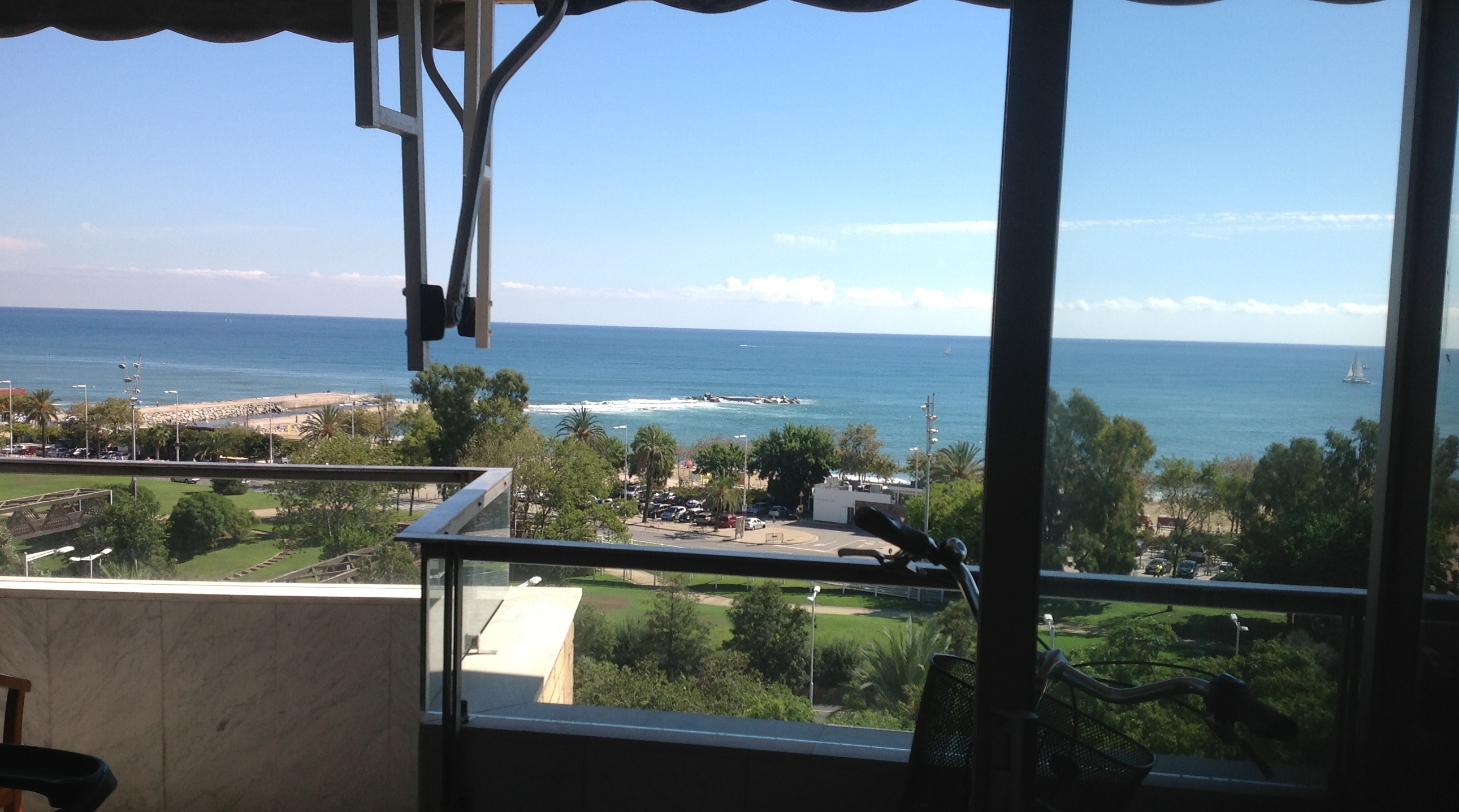 Emmett's birthday
We actually moved on Emmett's birthday. So we didn't celebrate until Friday, he was great about it and was surprisingly cool about opening presents a week later (presents that we hadn't gotten yet...yikes!) and I wanted to have a fridge and be able to make him cake since, you can't have a birthday without cake:) Jeff thinks that he was probably psyched that all his old toys arrived on his birthday along with all our furniture.
So the big gift was his scooter. Now for those of you who know about the balance bike... that $100 purchase he never used... I got gun shy and first purchased a cheapo scooter... then on the 29th, we went to a classmates birthday party (it was nice to meet many of the parents and they are all from everywhere, Finland, Italy, Chile, etc.) and everyone had these micro scooter things.... and he was riding them all over the place. So, I furiously looked for a place to buy one, which I couldn't find in a store for some reason, so had to buy online and then hope and pray it got here by Friday. Luckily it made it and he LOVES it! He picked up riding steering and braking in one day. (So Thanks Grandma and Grumpa and Auntie Andie, Uncle Chris, Lauren, and Kelsey and Claire and Jack!!). I think he'll ride it home from school most days.... in fact, I actually want one to keep up with him! I'll see how Abby does when she gets hers for her birthday, but I think it could be easier than bikes (which he still doesn't ride the balance bike.... argh).
We also found this cute book store while wandering around the area near his school which is ADORABLE (the area and the store). We got him this book, Rolf y Flor and it's a Spanish and English book with music (thanks Auntie Katie, Uncle Rich and Emily!!). It's a books with like 8-10 songs in a Spanish version and English version about how Rolf and Flor went to meet each other.... the cutest was Emmett picked that as his first gift to open.... since he could tell by the wrapping paper that it was a book....
Emmett and his scooter: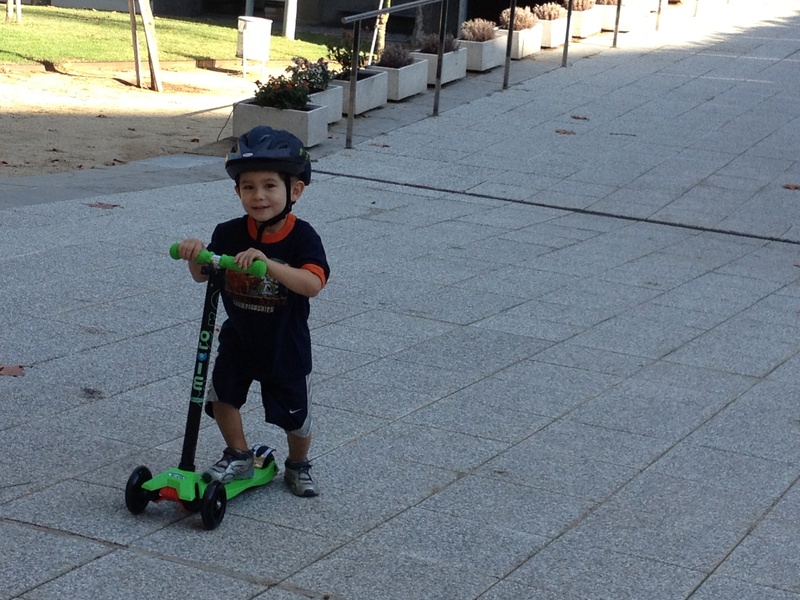 "Spain is really good about value added services." -Jeff
After buying Emmett's book at this cute little store (which had a play area for kids, as most do here) the owner who knew it was for his birthday gift wrapper it for me... FOR FREE! She even offered to give Abby some blue flower thing she had found after wandering around the back room... amazing.... Then we went to Veritas, which is an organic food store around the corner... and upon checking out... they added a jar of honey.... FOR FREE.... so while everything is more expensive, these little gifts "regalos" are awesome...
Groceries
So our grocery store is two blocks away... it's nice that it's so close so when I am going there every day it's not a big deal, except I am often going with an almost 2 year old, who is pushing her stroller (cutest thing ever...) and she needs to stop and rearrange the babies, then they need "uppies", then the sun visor needs to go up and then down, etc... so a normal 5 minute walk takes me 30 minutes, but man is it cute... .This grocery store is like ones I'm used to, where you can buy paper towels and cleaning supplies in the same building as fruits and meats. I still have to go to probably 3 or 4 different stores to get all the stuff we like and have found... but that really isn't different from going to Whole Foods, Market Basket and Shaws... the other amazing thing about this grocery store is... IT DELIVERS!!!... How amazing is that? You can set it up with whatever time slots they have available at check out and then they just deliver it to your door.... FOR FREE ... we haven't figured out if you are supposed to tip, since tipping is different here and the guy didn't do the awkward lingering thing, but it's pretty awesome.... and Abby's stroller is big enough to bring home anything that needs refrigeration.
Abby and her stroller:
Biking
Now I know I have mentioned I might switch to scootering since Emmett is doing so great with it, but we bought used bikes (AND we negotiated 20% off accessories...savings of 40 euros by buying both bikes there)... the bike takes Jeff's normal 25-30 minute commute down to 15 minutes with riding through la Rambla del Poblenou (adorable walking street lined with shops and car free) and then by the sea. Not bad. Jeff takes Emmett to school every morning on the bike and then bikes home after work. I haven't gotten a chance to take my bike out and ride with Abby since we have been going to the grocery store so much (see previous post)... but either way for those of you inclined to visit, we have two bikes with lots of locks (4 per bike... two u locks a seat like and a child-seat lock) and child-seats. We actually have the same bike (We are so turning into my parents... yikes!) Jeff's is at the highest setting and mine is the lowest... hahaha...dorks....
Eating Out
So the grocery store is part of a mall, which is hot. So when the kids are restless at check out from the grocery store... I let them run to the play bus and candy machines... there's also a sports store there, and various restaurants (Japonese, Chinese, Indian....) and a small organic food shop. OUTSIDE there are two restaurants, and lots of open space. So we can go eat... when the kids get tired of sitting, they can run around (or scooter around) in a safe enclosed area... this really takes the edge off the slow service... which is... really slow... if you come visit, make sure to allot extra time for meals...
In Closing
Lots has been going on here and we are hoping to normalize soon as Jeff starts to travel. Work for him has been tough with the time difference between here and Lexington, but he's a champ and doing well. Emmett's happy at school (which is very exciting) although a bit aggressive with Abby at home... we are hoping as soon as we get more settled his behavior will improve.... Abby is adorable, talking lots, singing (with hand motions) and playing with her animals, she can be quite the caregiver!
Categories: None
/