Shopping Cart
Your Cart is Empty
There was an error with PayPal
Click here to try again
Thank you for your business!
You should be receiving an order confirmation from Paypal shortly.
Exit Shopping Cart
Vignettes of our life abroad
| | |
| --- | --- |
| Posted on November 2, 2013 at 9:05 AM | |
What a treat! The kids have been thrilled to have their first visitors (and I have been thrilled too!)
G&G arrived Tuesday early enough to go pick Emmett up from school. We took our usual mosey home down the Rambla de Poblenou and then headed to the beach. The kids jumped in the waves and built sand castles, and then G&G ran out of gas (the flight over here is a red eye). We headed home for some R&R. Both kids were enjoying grandma and Grumpa that I was able to make guacamole and tacos for the evening. In fact they played amazing, I actually thought that G&G were awake! hahaha apparently my kids just need adults (that are not me and Jeff) in the room to behave. It was so nice to have family around and the kids curled up next to Grandma and enjoyed reading their favorites stories with her.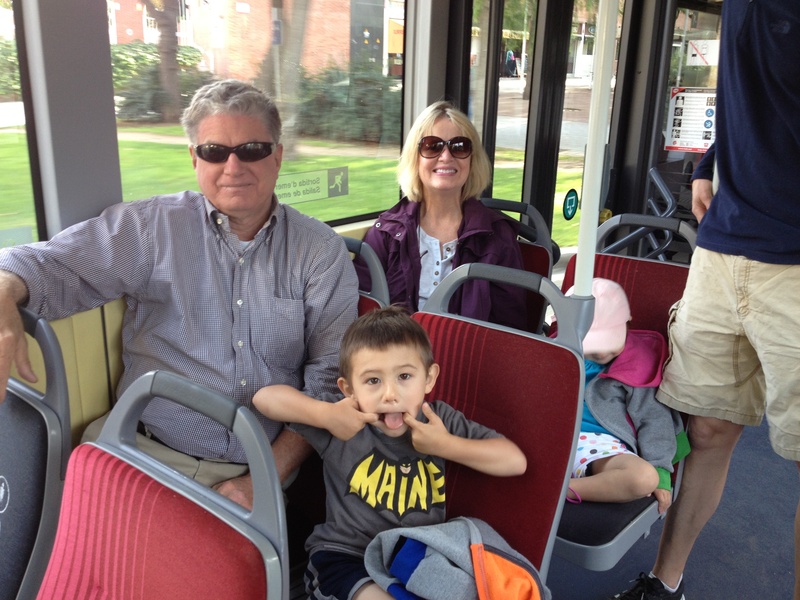 Wednesday G&G went exploring and we went to the park after school with some friends. We even got to visit daddy at the office (holy chaos! Imagine 5 kids in an office with balloons, bowling pins, ping pong table, white boards with pens for walls, golf clubs, enormous pillows, etc) and got home a little late with a sleeping Abby, so Grumpa made dinner for everyone, while I scooted (yes I stole my 4 years olds scooter) to a parents meeting about his school. Problem, the meeting was held in Spanish. Good Lord. I felt like a peanuts character listening to the teachers... wah wa wanht wahnt... I was thinking how long to I stay here versus get home... Abby is probably awake and raising bloody murder (which she was) and maybe they are actually saying something that is important to me? I made it home, Jeff had the kids entertained with the ipad. (as many of you know we limit screen time, but we have a code word... desperation.) so if either Jeff or I are overwhelmed with the kids or life.... we state we are "desperate" and plop the ole kiddos in front of the ipad. I still wonder what people did with their kids before TV. Dinner was delicious. As my mom always says, dinner always tastes better when you don't make it yourself
Thursday we went to the zoo (Emmett played hooky from school... there was a lice breakout and I am not feeling up to tackling lice in Spain yet). The kids had a blast. As we waited for G&G to get their senior discount (seriously if you are over 65 you get more of a discount than a 8 year old), Emmett was deciding which animal he wanted to show them most... wait for it... yup, the warthog. I mean, they are cute here and have babies etc, but seriously? No lions, or elephants or dolphins, he wanted to show them warthogs.
Anyway, Emmett has been totally loving having the grandparents around and stayed with them at the zoo for the dolphin show (when Abby went home for a nap) and then went with them to the beach. When Abby woke up we met them there and they were loving life. I might have (very easily) convinced Grumpa to work from Barcelona and stay longer their next visit. I mean honestly, they are eating food, drinking drinks and the kids are playing in the sand with toys that the restaurant provides. Life is good.
Later, we met Jeff after work to eat out and have tapas. Not sure if Grumpa was just jet lagged or woozy from his earlier beers, but apparently the food seemed to be the best he had ever had. Hahahaha. It was nice that G&G were loving the food and the location we are in. We are enjoying their company, and appreciating their help. G'ma is a cleaning machine (our apartment has never been so clean, I don't have to wear socks at all time to keep my feet from getting yucky) and G'pa seems to make the kids laugh like crazy. Hopefully they will visit again in the spring!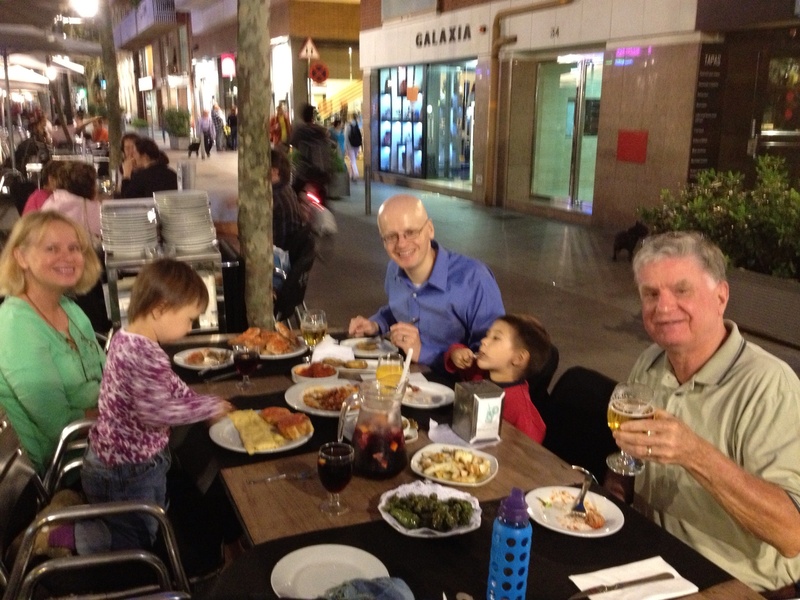 Categories: None
/